Drilling-Milling-Tapping Heads for Machining centres
Welcome to our website, where we present a comprehensive collection of high-quality and reliable accessories designed to enhance the efficiency and precision of your work. Our diverse range of accessories includes collets, spanners, and holders, each crafted with utmost care to meet the demands of professionals like you.
Collets
Our precision-engineered collets are essential tools for securing workpieces firmly in place, allowing you to perform intricate tasks with confidence. These collets boast exceptional grip strength and uniformity, ensuring minimal runout and optimal concentricity during machining operations. Manufactured from top-grade materials, our collets exhibit remarkable durability and are compatible with a wide array of machines, making them the ideal choice for various industries and applications.
Spanners
Equipped with ergonomic designs and rugged construction, our spanners provide the perfect grip and leverage for effortless handling. Whether tightening or loosening, these specialized tools guarantee a secure fit and reduce the risk of slippage, safeguarding both the accessory and your equipment. With corrosion-resistant properties, our spanners are built to withstand the test of time, allowing you to work with peace of mind and uninterrupted productivity.
Holders
Our holders are meticulously engineered to secure cutting tools, inserts, and other accessories with utmost stability and precision. Crafted to fit seamlessly with your machinery, these holders offer exceptional rigidity, minimizing vibration and ensuring consistent performance during demanding operations. Additionally, our holders come in a variety of configurations, providing versatile solutions to accommodate your unique requirements.
At Tuskar, we understand the importance of reliable accessories in achieving exceptional results. Our commitment to innovation and quality drives us to continually improve our product offerings to meet the evolving needs of professionals in various industries. Whether you're a seasoned veteran or a budding enthusiast, our accessories are designed to empower you to reach new heights of excellence.
Explore our extensive range of collets, spanners, and holders, and unlock the true potential of your machinery today. Experience the difference of superior craftsmanship and discover the unmatched precision that only our accessories can deliver. Trust in Tuskar Manufacturing Solutions Pvt Ltd for all your professional accessory needs, and let us be your partner in success.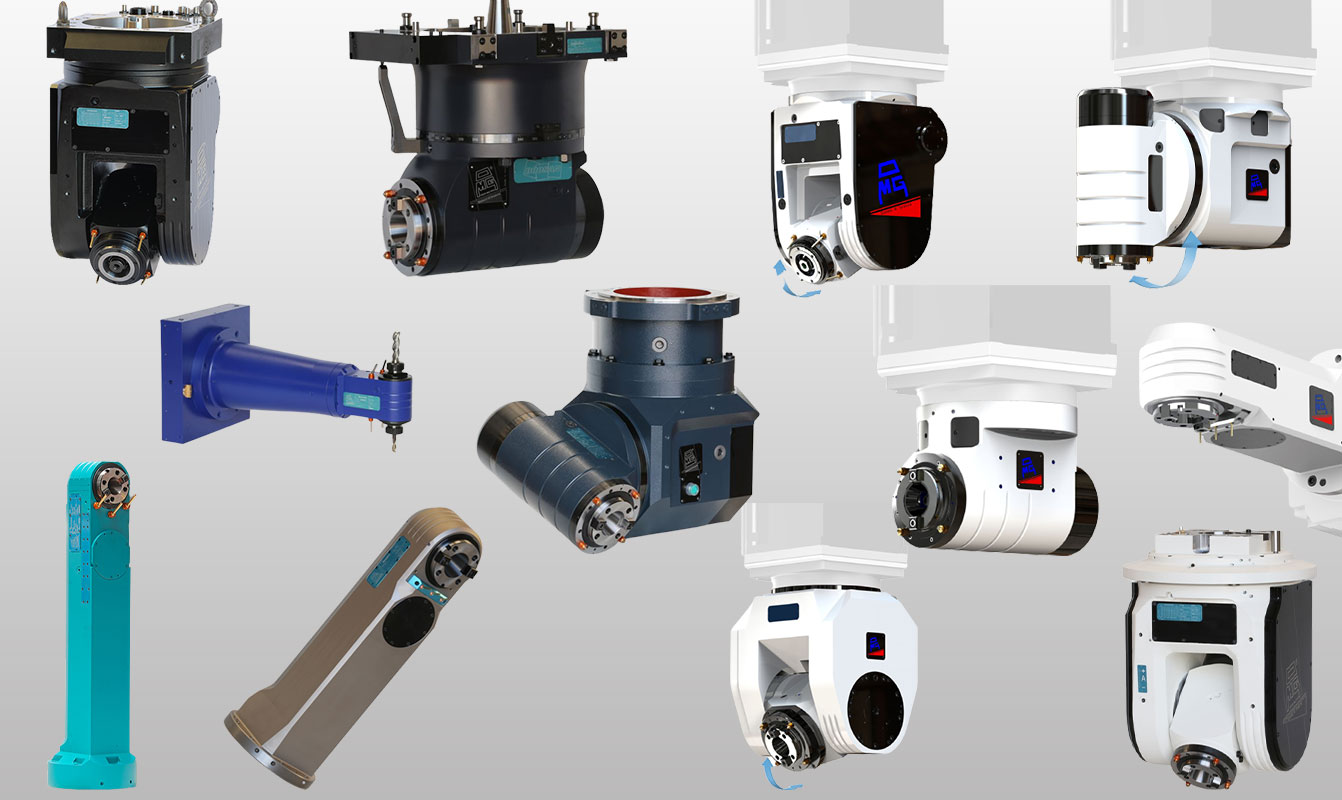 Welcome to our website's section on Big Angle Heads, an essential component in precision machining and manufacturing processes. These innovative tools enhance the versatility and efficiency of machining operations by allowing users to access difficult-to-reach areas and perform multi-axis milling operations with ease. Below are detailed descriptions of various types of Big Angle Heads available:
Tilting Automatic Head
Our Tilting Automatic Head is a cutting-edge tool that brings automation to angular adjustments during machining processes. With its integrated motorized tilting mechanism, operators can effortlessly set precise angles for milling, drilling, and tapping operations. This head is designed to save valuable setup time and ensure consistent and accurate results.
Tilting Manual Angle Head
The Tilting Manual Angle Head offers excellent flexibility and control over angular adjustments. Equipped with easy-to-use manual tilting features, operators can swiftly set desired angles for machining tasks. This head is ideal for situations where operators prefer hands-on control or require rapid angle changes without compromising on precision.
Fork Type Programmable Angle Head
Our Fork Type Programmable Angle Head is a versatile solution for complex machining tasks. It features a programmable fork design that enables automatic and precise angle positioning. Users can store multiple angle settings and easily switch between them, streamlining production and maximizing productivity.
Fork Manual Angle Head
The Fork Manual Angle Head combines the convenience of a fork-type design with manual angle adjustment capability. This hybrid approach provides operators with the choice of either using the programmable angle function or manually adjusting the angle, depending on the machining requirements.
Heavy Duty Right Angle Heads
Our Heavy Duty Right Angle Heads are specially engineered for demanding machining applications that require robustness and reliability. These heads excel in heavy-duty milling, drilling, and tapping operations and are built to withstand high cutting forces, ensuring exceptional performance in challenging work environments.
Programmable C Axis
The Automatic C-axis is a state-of-the-art system that seamlessly integrates with your CNC machines, enabling automated rotation of the workpiece without manual intervention. This breakthrough feature allows for continuous machining operations, eliminating the need for constant repositioning and setup changes.
Extended Angle Heads
The Extended Angle Heads provide extended reach capabilities, making them indispensable for machining deep or hard-to-reach areas. These heads are designed to maintain rigidity and precision even at extended lengths, ensuring consistent performance throughout the machining process.
Incorporating these Big Angle Heads into your machining operations will undoubtedly enhance productivity, precision, and overall performance. With their innovative features and robust construction, they are essential tools for any modern machining facility. Contact us today to explore the best-suited angle head solutions for your specific needs.
The angle heads and the spindle speeders exhibited here are designed and built to satisfy the tooling requirements of very large machines used in a variety of
industries: Heavy goods vehicles, Aeronautics, Shipping, Military, Railroad, Energy, Moulds and Automotive.
To build these types of products, one needs design expertise, thorough knowledge of the product itself and related problems, investment strength, specific machine tools and equipment as well as highly qualified personnel.
The applied technology, the materials, the parts and assembly all ensure top levels; the certified static and dynamic tests guarantee the best possible performance over time.
They are usually special products, tailor-made for the specific requirements of the manufacturer of machine tools or for retrofitting machines already at work in the specific industries.
The main features of these products may be summarised as follows:
Body made of cast iron or obtained from the full piece to ensure maximum precision and stability
Motion transmitted by means of Gleason ground involute gears. The transmission ratio is normally 1:1, but it may be in both multiplication and in reduction based on torque transmission requirements
Standard tool-holder couplings: DIN69871 – DIN 2080 – BT – HSK – Coromant Capto or others on request
The tool holder can be locked on the spindle in two ways: manually or automatically. If automatic, it is locked mechanically and released hydraulically
The coolant may be supplied in the centre of the tool holder. The pressure currently reached is 70 Bar and the tool holder is cleaned with air. Whatever the case, there are always some turning nozzles around the spindle. Furthermore, the spindle is always pressurised to avoid intrusions.
Spindle oblique contact precision bearings lubricated with long life grease
Gears normally lubricated with grease separated from the grease of the bearings. For high speeds, the lubrication system is oil circulation
The axes of the heads with automatic rotation are locked by means of Hirth crowns, with standard division of 2.5° and 1° on request
All the electrical control devices on the axes and the spindles are inside the head and are easily accessed
These products are statically tested on 3D measuring machines and dynamically, at the agreed rates, on our BP05 test bench that fully simulates the conditions of use in compliance with the product standards.
The FH Facing Heads are accessories studied and realized for CNC Machine Tools that are connected to the U axis, to obtain high performance for work piece machining as: outer facing, inner facing, back facing, cylindrical and conical boring, threading, and machining through the interpolation with the other axes of the Machine Tool. The Facing Head can be applied manually or automatically to the machine tool, machining center and special machines.
There are standard sizes of FH Facing Heads, although special versions can be supplied upon request.
The high accuracy of the radial position of the slide is obtained because the FH Facing Head is provided by a direct linear optical scale directly coupled to the slide, while the driving of the movement is obtained by a servomotor directly applied to the preloaded ball screw by a short belt. Therefore there isn't any backlash between the movement and the radial transducer, and the accuracy and repeatability is the same as the axes of the machine tool, with accurate bidirectional movement of the slide
The rotation of the rotating plate is obtained by two gears chains with a reduction ratio up to 1:4, with some advantages:
The electrical collector has a very small diameter, and this allows high speed and good protection with high reliability;
The torque available on the facing head is increased in relation to the torque available on the spindle of the machine tool;
There is a inner hydraulic connector to feed the water cooling at high pressure that doesn't pass through the boring spindle of the machine, that give also the possibility to fed by grease the inner parts of the facing head, including the lubrication of the slide of the rotating plate, and also allows to pressurize not only the base but also the rotating plate.
The main structures of the facing head are in cast iron while the slides of the radial slide are hardened and grinded.
FH Facing Head can be supplied with the following options:
Automatic balancing. To balance the centrifugal forces, fixed counterweights can be always used. For a better balancing of the centrifugal forces, the automatic balancing improves working conditions by means of counterweights that move in the opposite direction in relation to the slide.
Hydraulic locking of the slide. Allows to lock the radial position of the slide to obtain a very good roughness during the boring of cylindrical holes.
Interface. The FH Facing Head can be applied manually to the face of the machine tool or automatically using a suitable flange for fastening to the machine tool face including automatic electrical, hydraulic, grease and pneumatic connections, and a plate for the rotation of the rotating body. Our company is available for the design and construction of the interface.
Tool holders ( radial, axial, .. ). A wide range of accessories are available to fix the bar in radial way or axial way, by one or two supports, and to lock the tool with different kinds of tool holders.
HT series revolving turrets are one of the last product in the O.M.G. production range. Inspired by the need to increase the flexibility of machine tools, they are able to perform drilling, thread-cutting, boring, milling-cutting. Can be installed directly on the machine's spindle or, with their own drive, mounted on slides with one or more axes of movement.
Available in three sizes, they can be fitted with from two to six interchangeable cartridge spindles with coolant passing through the centre of the tool, as well as multiple or angle heads and spindle speeders for greater tool velocity. All version use a positioning system based on a Hirth crown gear, enabling outstanding precision, excellent rigidity in milling-cutting and finishing boring, and outstanding repeatability.
Turret head made in steel and cast iron.
Spindles unit with precision bearing.
Spindles with different tool connections (HSK, Komet, DIN55058, etc.) which can be interchanged on the same turret.
Spindles directly engaged with drive output to exploit power to the full.
Hydraulic Hirth crown gear locking-release system.
Single drive rotates both turret and spindles.
Two-way turret rotation for quicker retrieval of the spindle needed for the next process.
Independent coolant for each spindle.
Coolant can be passed throught centre of spindle.
Lubrication by grease or oil-air mixture.
Turret pressurized with air.
Single connector for data exchange between turret and cnc.
On turret heads you can use fixed multispindle head, angle head, spindle speeders, recessing spindle.
The turret head HT series once more reflects O.M.G.'s ability to constantly perfect its range of high reliability tools for industrial machining and to target the exact needs of its clientele, offering its products versatility as a resource for innovation.
The "
MOX
" series of
spindle speeders
has been designed and developed to offer a product that ensures maximum reliability and precision in milling and drilling. From design to static and dynamic testing of the finished product, our
spindle speeders
use the most advanced technical and technological know-how.
The compact construction, the heat-treated steel parts and the ground gears on the involute guarantee transmission of high power ratings with amazingly low noise levels. The spindle is supported by a set of preloaded precision ball bearings with oblique contact that ensure greater strength and rotation precision less than 0,01 mm.
Max 36.000 rpm
Used in particular for finishing operations
Manual or automatic tool change option
Allow the machine to rotate at low rpm
Possibility of using hard metal tools
Two planetary gears for high transmission power ratings
Special tool attachment on request (Komet, DIN 1835, etc.)
Coolant through the tool centre standard or on request
Special machine shank connection, on request (Morse Cone, DIN 69880 etc.)
Interchangeable anti-rotating pin which can therefore be customized by the customer
The MOX spindle speeders series can be mounted on traditional machines and on machines with automatic tool change.
The MO spindle speeders series is lubricated with a long-life synthetic grease that is practically maintenance free. The test certificate enclosed to each spindle speeders guarantees the quality of the product.
Our products have always stood out for their sturdiness, flexibility and easy use and maintenance and the MOX spindle speeders series is an additional proof of such outstanding features.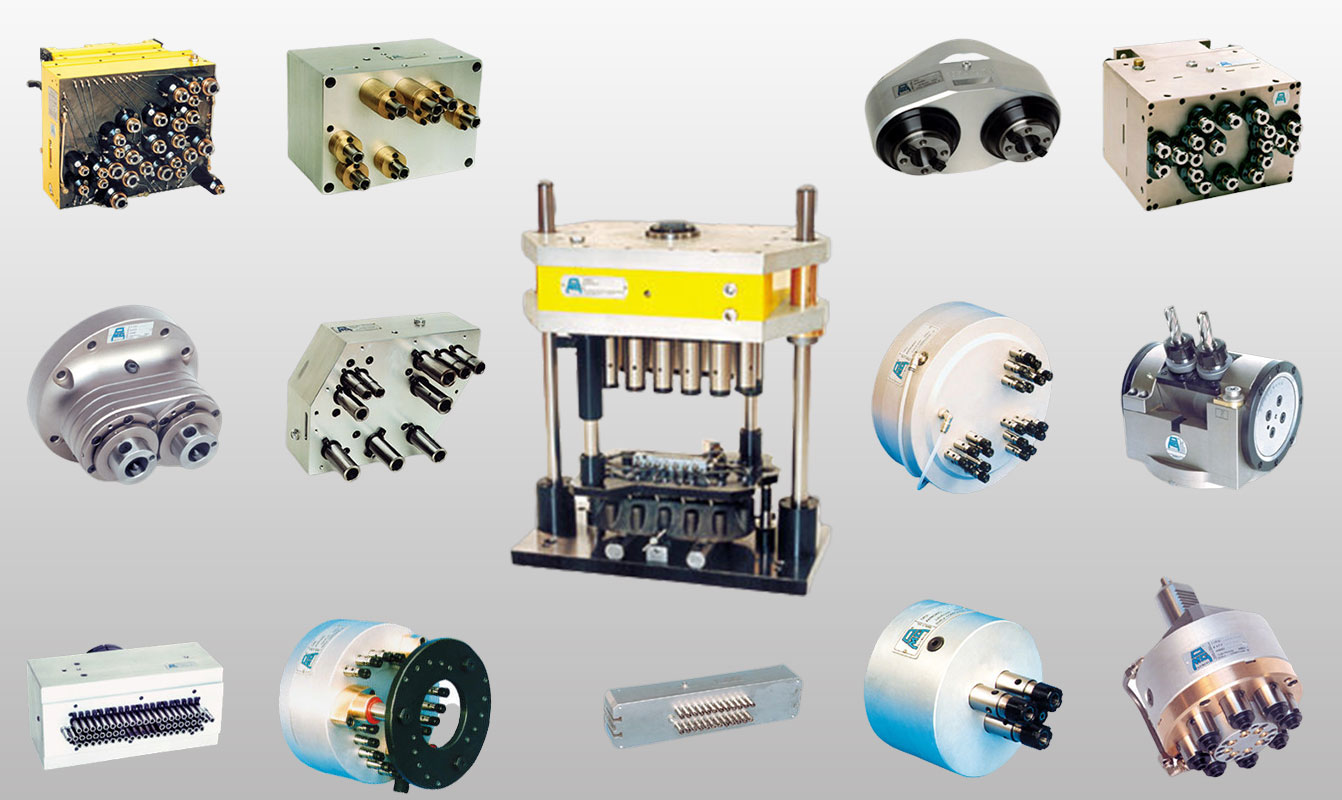 Fixed Centre Multi-spindle Head includes:
MT suitable for small centre distance, small drill and tap
TC suitable for medium centre distance, medium drill and tap
TC3 suitable for applications requiring high productivity and long-lasting life
And what about if O.M.G. engineering assumes that required machining cannot be executed with a Fixed Centre Multi-spindle Heads with their modular system?
Here we have TFS section dedicated to those Special Fixed Centre Multi-spindle Heads which are thought, designed and manufactured for a customized machining requirement.
The
universal joint multi-spindle heads
have been in production at OMG SRL, Italy since 1961; over the years they have been modified and updated, without however refuting the goodness of the idea and always leaving major features unaltered:
possibility of using for both drilling and tapping
possibility of multi-positioning the spindle units, restricted only by the size of the spindle and of the working area
suitable for all types of drilling machine, spindle unit or for special machine solutions
especially useful when the need arises to frequently change the hole centre distances
broad range of models for different requirements versatility and flexibility, right way to reduce the production cost
The following versions are available :
series T-TS with round base for making up to 12 holes; max drilling capacity dia. 22 mm, minimum centre distance 15 mm, max centre distance 350 mm
series TL with linear base for making up to 12 holes; max drilling capacity dia. 22 mm, minimum centre distance 17 mm, max centre distance 610 mm
series TR with rectangular base for making up to 16 holes; max drilling capacity dia. 22 mm, minimum centre distance 32 mm, max centre distance 395×345 mm
series TM-TRM with round and rectangular base for making up to 26 holes; thanks to their technical features, they are able to execute a series of different drilling and tapping patterns on machines of adequate power.
The catalogue is compiled so as to provide a precise reference for all the adjustable joint multi-spindle heads and the various possible solutions these offer.
Thanks to the new technical sheets, equipment examples, accessories and charts, you will find making the right choice much easier.
If this series of heads is not providing the solution for your job, our technical department can provide alternative solutions with the variable axis multi-spindle heads VH series or fixed-axis multi-spindle heads MT-TC-TC3 series, properly designed according to your needs.
Introducing the Angular Head for Machining Centre:
Unlocking Precision and Versatility in Machining Excellence
Welcome to the cutting-edge world of precision machining with our revolutionary Angular Head for Machining Centre. Designed to elevate your machining capabilities to unparalleled heights, our Angular Head is a state-of-the-art tool engineered to meet the demands of the most challenging industrial applications.
Unrivalled Versatility
The Angular Head empowers your machining centre to achieve multi-axis operations with utmost flexibility. Its dynamic design allows for simultaneous machining at various angles, enabling you to effortlessly tackle complex contours and intricate geometries.
Precision Engineering
Crafted with meticulous attention to detail, the Angular Head ensures utmost accuracy and repeatability in every operation. Benefit from precise angular indexing, minimizing setup time, and maximizing overall productivity.
High Rigidity
The Angular Head boasts exceptional rigidity and stability, delivering outstanding cutting performance even under heavy loads. Experience reduced vibrations and enhanced surface finishes, elevating the overall quality of your machined parts.
Seamless Integration
Designed to seamlessly integrate with a wide range of machining centres, our Angular Head is easily adaptable, minimizing installation time and optimizing your machining processes swiftly.
Enhanced Efficiency
With its efficient power transmission and minimal energy losses, the Angular Head enables you to reduce energy consumption while maintaining superior machining output.
Advanced Control
Take full control of your machining operations with our user-friendly interface. Adjusting parameters and optimizing cutting paths is a breeze, allowing you to achieve the desired results with precision and ease.
Applications:
The Angular Head for Machining Centre opens the door to a myriad of machining possibilities, making it an invaluable asset across various industries, including:

Aerospace: From intricate turbine blades to complex aerospace components, achieve unparalleled precision and consistency in manufacturing critical aviation parts.
Automotive: Elevate your automotive manufacturing process with the ability to create precision-engineered engine components, transmission parts, and intricate automotive molds.
Medical: Meet the stringent demands of medical device manufacturing by producing intricate and customized medical components with impeccable precision.
Mold and Die: Realize intricate mold designs and precision die manufacturing with ease, reducing lead times and enhancing mold quality.
Conclusion:
Elevate your machining center's capabilities to unprecedented levels with our Angular Head, a powerhouse of precision, versatility, and efficiency. Experience enhanced productivity, reduced setup times, and superior surface finishes, empowering your business to thrive in today's competitive manufacturing landscape.
Invest in the future of machining excellence with our Angular Head for Machining Centre. Contact us today to revolutionize your machining processes and unlock a world of new possibilities.
The new generation of
TA.CP angle heads
introduces an innovative line targeting all the small machine-tools with restrained size, but with high performances despite limited weight on tool changer. Therefore
TA.CP angle heads
are lighter but with both quality and reliability typical of our products.
The goal of containing the weight has been reached by making the head body in aeronautical aluminum alloy and by engineering a simplified and lightened torque-arm system, yet maintaining unchanged the back-end shank modularity characteristic of our Heavy Duty range.
The major feature of this new generation of angle heads is to be able to perform drilling, tapping and reaming operations on machine-tools with high limitations on tool changer weight, or when production costs must be extremely competitive. The major specifications of the new TA.CP range are:
Conical (V-shape) torque-arm pin like all OMG heads which eliminates any angular backlashes, unlike cylindrical type of pins
Possibility of using them on machines which are already equipped with a Stop-Block of the Heavy Duty range, getting them fully compatible with our complete range
Optimized indexing set-up for an easier and faster adjustment on machine-tools
Lubricated-for-life
Ground involute Gleason type gears
Extremely reduced weight in comparison to the capabilities and performances of this new range of angle heads
Usable on small size machining centres
Extended length versions available further completing this new range
DIN69871, BT, BBT, HSK and CAT back-end shanks available
The adjustable multi-spindle heads TSI and TSX series with two parallel or convergent spindles are suitable to mill and to chamfering the gear teeth. Special care has been taken with the spindles bearing layout, because the hard metal tools are also used for chamfering and the entire machine has to withstand many knocks and bumps. The result is a solid, compact, reliable unit that also has an oppening look.
The adjustable multi-spindle heads TSI and TSX series have many different features among which: an aluminum body, cast iron spindle support, simply and easy adjusted by the operator.
The spindles may turn in the same direction or in apposite direction and the adjustment of both spindles is achieved thanks to a single act. The tool connection may be cylindric or with spring collets. The lubrication is by long life grease. The production of our twin adjustable multi-spindle head was made possible thanks to the experience acquired in the construction of multi-spindle heads, our knowledge of production process and our ability to know how to cater for individual requirements with qualified products.
Our latest high performance VH series bears witness to the technology and "know how" of multispindle heads with fixed centres and allows the end user to fully exploit the latest developments in tool manufacturing.
This new VH series, so different from both technological and aesthetic viewpoints, results from meticulous ergonomic research.