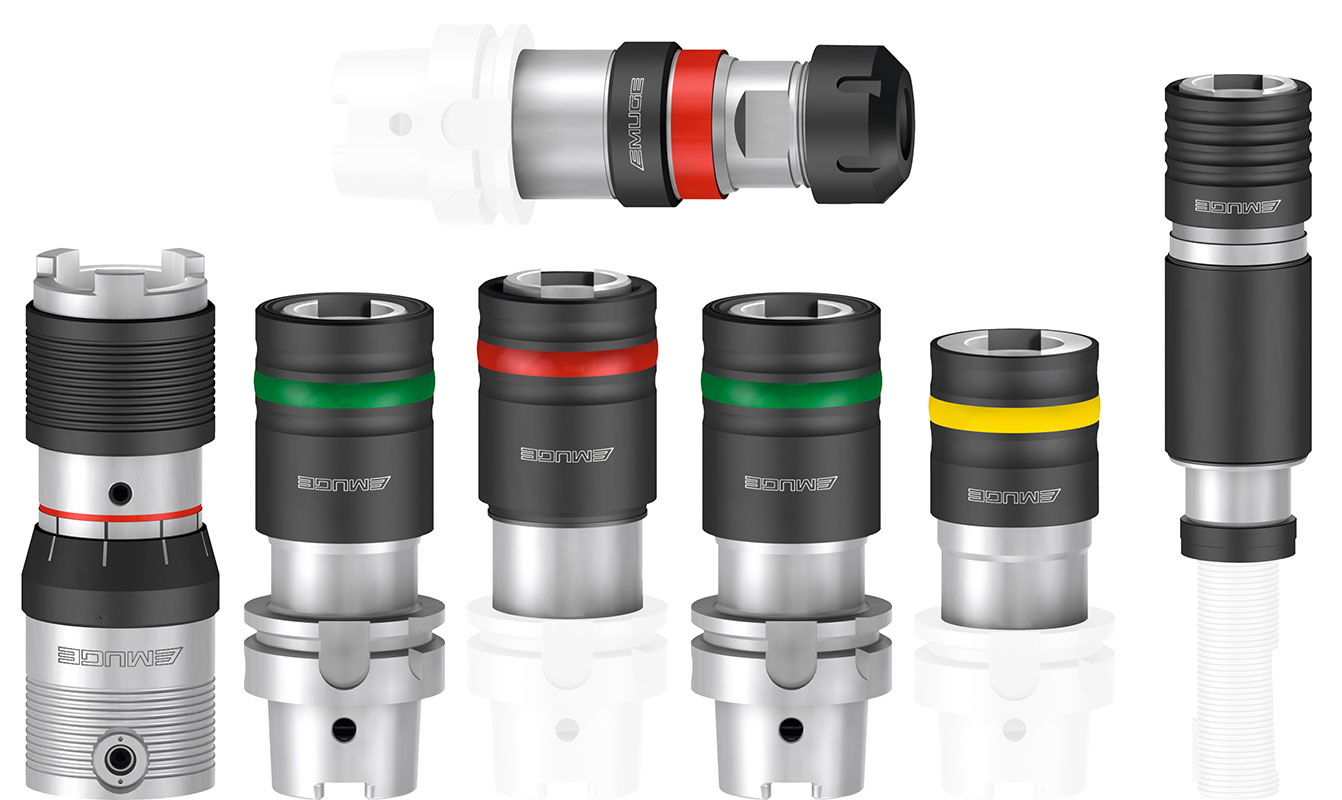 Introducing EMUGE-FRANKEN India Pvt. Ltd.'s Cutting-Edge KSN Holders:
Revolutionizing Tool Clamping for Conventional and CNC Machines.
When precision meets innovation, excellence is inevitable. Tuskar proudly presents our exceptional range of KSN Holders – the pinnacle of tool clamping technology. Designed to elevate your machining experience, our KSN Holders redefine accuracy, reliability, and performance, setting new benchmarks in the industry.
Unparalleled Precision
Crafted with meticulous attention to detail, our KSN Holders boast unrivaled precision that ensures consistent and repeatable results. Say goodbye to variations and welcome consistent performance with every use.
Minimal Run-Out
Engineered for perfection, our KSN Holders exhibit minimal run-out properties, guaranteeing impeccable tool alignment. This translates to enhanced surface finishes, extended tool life, and reduced downtime.
Versatile Compatibility
Whether you're working with conventional machines or state-of-the-art CNC marvels, our KSN Holders seamlessly adapt. Their adaptive design accommodates a variety of straight shank tool designs, providing flexibility across different machining processes.
Reliable Process
Trust is the foundation of every machining endeavor. Our KSN Holders establish an unbreakable bond with your tools, ensuring a secure and reliable clamping process. This eliminates slippage, enhances productivity, and safeguards your valuable investments.
Balanced Brilliance
The pursuit of perfection is a journey we embrace. Equipped with carefully calibrated balancing mechanisms, our KSN Holders minimize vibrations during operation, allowing your tools to shine with unwavering stability.
Effortless Efficiency
Streamline your operations with the user-friendly nature of our KSN Holders. Swift tool changes and hassle-free adjustments empower your workforce to optimize their efforts and achieve remarkable results.
Experience the Future of Tool Clamping:
Our KSN Holders stand as a testament to our commitment to excellence. With a proven track record of empowering industries globally, our tool clamping solutions have become synonymous with precision and innovation.
Whether you're embarking on intricate CNC machining or embracing the reliability of conventional processes, our KSN Holders are the embodiment of advancement. Elevate your capabilities, amplify your output, and embark on a journey towards machining mastery with our KSN Holders.
Join us in shaping the future of tool clamping technology. Unleash the potential of your machines, one clamping at a time.
Contact us today to explore the possibilities and make precision a part of your every endeavor.
Introducing Emuge SoftSynchro™ Tool Holder:
Achieving Perfect Synchronized Tapping
Enhance your machining center's performance with the cutting-edge Emuge SoftSynchro™ Tool Holder, designed to elevate your tapping operations to a new level of precision and efficiency. As a trusted provider of high-quality manufacturing solutions, we proudly offer Emuge's state-of-the-art tool holder, engineered to optimize synchronized tapping processes and deliver unparalleled results.
Precision Synchronization
The Emuge SoftSynchro™ Tool Holder is meticulously crafted to ensure flawless synchronization during tapping operations. Its innovative design minimizes the risk of pitch errors and thread distortion, resulting in impeccable thread quality.
Enhanced Efficiency
Say goodbye to time-consuming manual adjustments and subpar threading outcomes. Our SoftSynchro™ Tool Holder streamlines the tapping process, significantly reducing cycle times and maximizing your machining center's productivity.
Superior Performance
Whether you're working with standard or high-performance tapping applications, the Emuge SoftSynchro™ Tool Holder consistently delivers exceptional performance, maintaining optimal cutting conditions and extending tool life.
Versatility
Our tool holder is engineered to accommodate a wide range of tapping applications, making it an ideal choice for various industries and machining requirements. Experience consistent, reliable results across diverse workpieces.
Easy Integration
Designed for seamless integration into your existing machining center setup, the Emuge SoftSynchro™ Tool Holder is user-friendly and requires minimal setup time. Get your operations up and running quickly and efficiently.
Quality Craftsmanship
Crafted with precision and durability in mind, the Emuge SoftSynchro™ Tool Holder is built to withstand the demands of modern machining environments, ensuring long-lasting performance and reliability.
Why Choose Emuge?
Industry Leader: Emuge is a renowned name in the manufacturing industry, known for its cutting-edge solutions and commitment to excellence. With the Emuge SoftSynchro™ Tool Holder, you're accessing top-tier technology that empowers your machining operations.
Expert Support: Backed by our team of machining experts, you can count on us for comprehensive support and guidance. We're dedicated to helping you optimize your tapping processes and achieve outstanding results.
Unparalleled Innovation: Emuge SoftSynchro™ Tool Holder represents the culmination of years of research, development, and innovation. Stay ahead of the competition with a tool holder that's designed for the future of machining.
Elevate Your Tapping Operations with Emuge SoftSynchro™ Tool Holder

Experience the Emuge difference firsthand and take your tapping operations to new heights. Unlock the potential of synchronized tapping with our cutting-edge SoftSynchro™ Tool Holder. Contact us today to learn more about how this innovative solution can revolutionize your machining processes.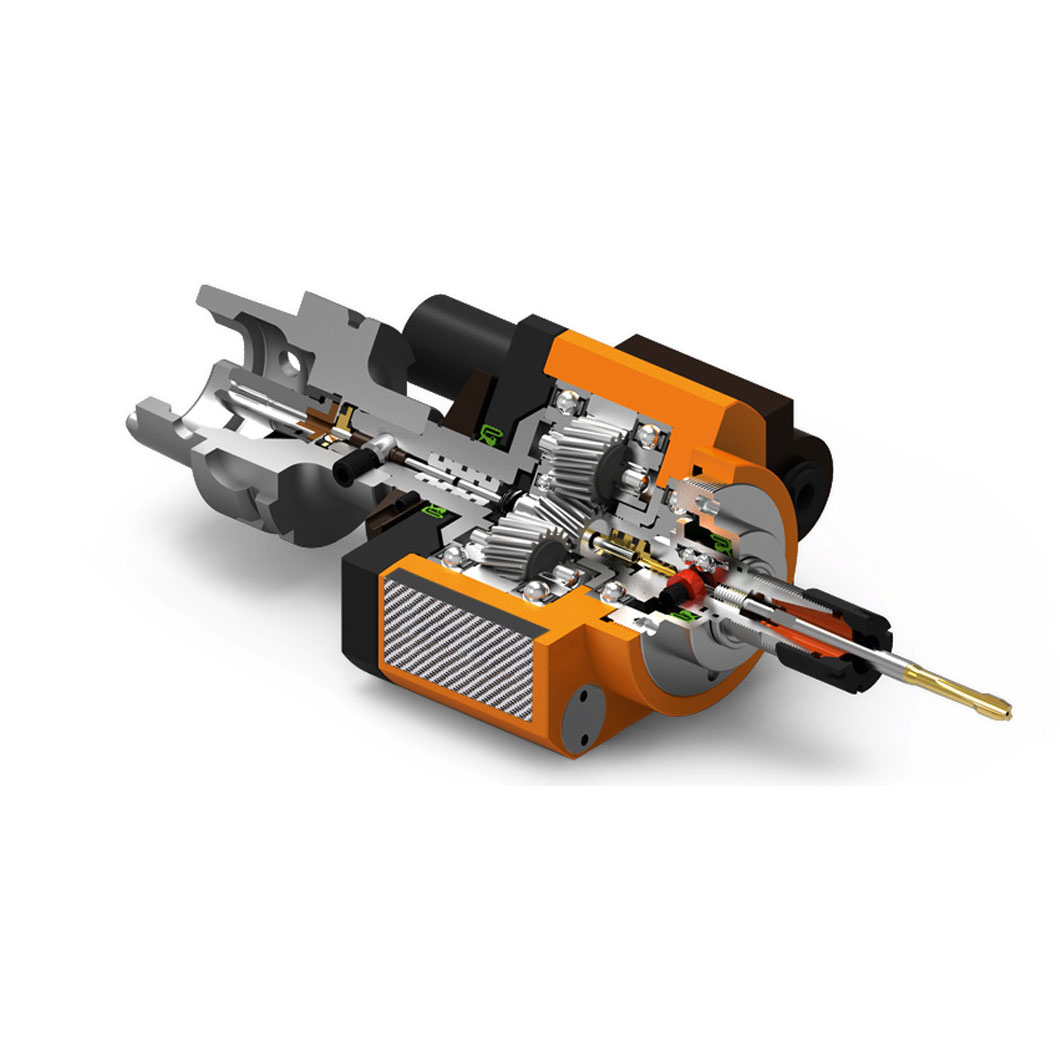 The Speedsynchro collet holder offers significant benefits, enhancing the lifespan of threading tools and substantially reducing cycle times. The collet holder Speedsynchro Modular / NFC incorporates an integrated transmission gear, boosting the machine spindle speed by 4.412 times on the tool side.

Speedsynchro Modular/NFC Speedsynchro enables higher cutting speeds and reduces thread production time. Meanwhile, the machine spindle can operate at lower rotational speeds, resulting in up to 90% energy savings typically used for spindle acceleration. You benefit from extended tool life for threading tools. All essential operational data can be easily accessed by using an NFC-enabled smartphone, allowing you to stay informed about maintenance schedules and avoid unnecessary expenses.

Speedsynchro Mini Designed for various series of Brother and Fanuc machine tools with a BT 30 interface, the Speedsynchro Mini boasts a lightweight design, facilitating swift tool changes in the machine tool magazine. Similar to the Speedsynchro Modular, the Speedsynchro  Mini also integrates an NFC module to store operating data. Important information, such as the number of threads produced to date and service intervals, can be effortlessly accessed using a smartphone. The required app, available for free on the Google Play Store or the Apple Store, must be installed on a smartphone with an NFC module.
Introducing Tap Extensions: Enhancing Thread Precision

When standard tap length falls short, and precision threads are a non-negotiable requirement, look no further than our Tap Extensions. These innovative tools have been meticulously designed to tackle threading challenges where conventional taps cannot reach.
Precision Thread Preparation
Tap Extensions enable you to achieve precise and accurate threads in components, ensuring optimal fit and functionality.
Extended Reach
Reach deep into confined spaces, intricate designs, and complex geometries with ease. Tap Extensions provide the extra length necessary to access areas previously inaccessible.
Versatility
Our Tap Extensions are compatible with a wide range of taps, allowing you to adapt to various thread sizes and specifications effortlessly.
Durability
Crafted from high-quality materials, these extensions are built to withstand the rigors of demanding applications, ensuring long-lasting performance and reliability.
Easy Attachment
Designed for seamless integration, attaching and detaching Tap Extensions to your existing tap setup is quick and hassle-free.
Applications
Aerospace and Aviation: Achieve impeccable threads in intricate components, even in hard-to-reach areas of aircraft and spacecraft.
Automotive Engineering: Perfect for threading components within engines, transmissions, and chassis where standard taps struggle to reach.
Medical Device Manufacturing: Ensure the highest standards of thread precision in medical instruments and implants.
Precision Machinery: Optimize thread quality in complex machinery and equipment, contributing to smoother operations.
Electronics: Thread delicate components with confidence, even in the most confined spaces within electronic devices.
Why Choose Our Tap Extensions?
Our Tap Extensions stand out as the go-to solution when thread precision cannot be compromised. Backed by cutting-edge design and engineered for reliability, they empower you to achieve flawless threads in every application. Elevate your thread preparation process with Tap Extensions that redefine reach and precision.
Experience the difference today and revolutionize your thread preparation capabilities. Get in touch with us to learn more or place your order.