High Precision Milling Chucks FPC
Experience Precision and Efficiency with our Patented FPC Precision Collet Holders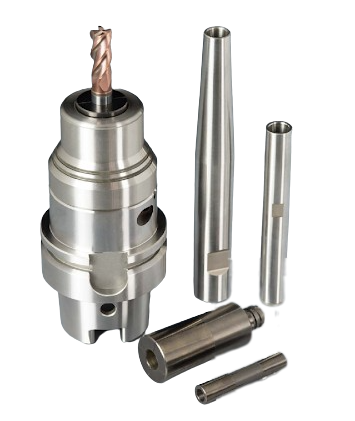 Introducing our exclusive line of FPC Precision Collet Holders – meticulously engineered tool holders that epitomize precision, strength, and performance. These mechanical clamping marvels have been crafted with the utmost dedication to excellence, offering an unparalleled fusion of remarkable clamping force, impeccable concentricity, and exceptional shock-absorbing capabilities.
Our FPC Precision Collet Holders are ingeniously designed to secure your tools through the implementation of collets, ensuring a steadfast grip that safeguards against the rigors of demanding applications. The operational ease is elegantly underscored by a hexagon wrench, seamlessly activating the side-mounted clamping mechanism in a matter of mere seconds. Notably, these holders effortlessly accommodate all straight shanks compliant with DIN 6535 or DIN 1835 standards, further enhancing their versatility and practicality.
Excellence Finds Its Form in Precision: These high-precision collet holders are impeccably tailored to excel in the realm of high-performance and high-speed milling. Moreover, their adaptive design extends their utility to encompass drilling, reaming, and threading operations, rendering them a multifaceted asset in your machining arsenal.
Unwavering Reliability
The FPC Precision Collet Holders exhibit a remarkable capacity to transmit exceptionally high torque levels, culminating in unparalleled process reliability. A resounding testament to their prowess, these holders can proficiently transfer up to 400 Nm of torque through a tool shank diameter of 20 mm.
Microscopic Accuracy
Precision finds its ultimate expression as our collet holders achieve an astounding concentricity of ≤ 3 μm, when the tool projection length measures 3 times its diameter (3 x D). This exceptional precision ensures consistent tool longevity and impeccable surface finishes, elevating the standard of your machining endeavors.
Prolonged Tool Lifespan
Embracing innovation, the FPC Precision Collet Holders ingeniously curtail vibrations emanating from the machining process. This sophisticated technical design serves to enhance surface quality on workpieces while fostering an extended tool life, attesting to our unwavering commitment to sustainable performance.
Rapid Tool Metamorphosis
Efficiency unfurls as a simple twist of the collet, with the tool seamlessly nestled within the holder, activates the swift clamping mechanism. This enables an agile and seamless tool change, streamlining your workflow and enhancing your operational efficacy.
Elevate your machining experience with the precision, reliability, and innovation exemplified by our FPC Precision Collet Holders. Explore a new realm of possibilities, where superior engineering converges with operational brilliance.